We're headed down the bike path toward Kensington, a small gentrified district across the 10th Street Louise bridge which connects Downtown West End with Memorial Drive.  It's late morning and we are hungry.  We walk the streets and pass several eateries, nothing has appealed to our senses.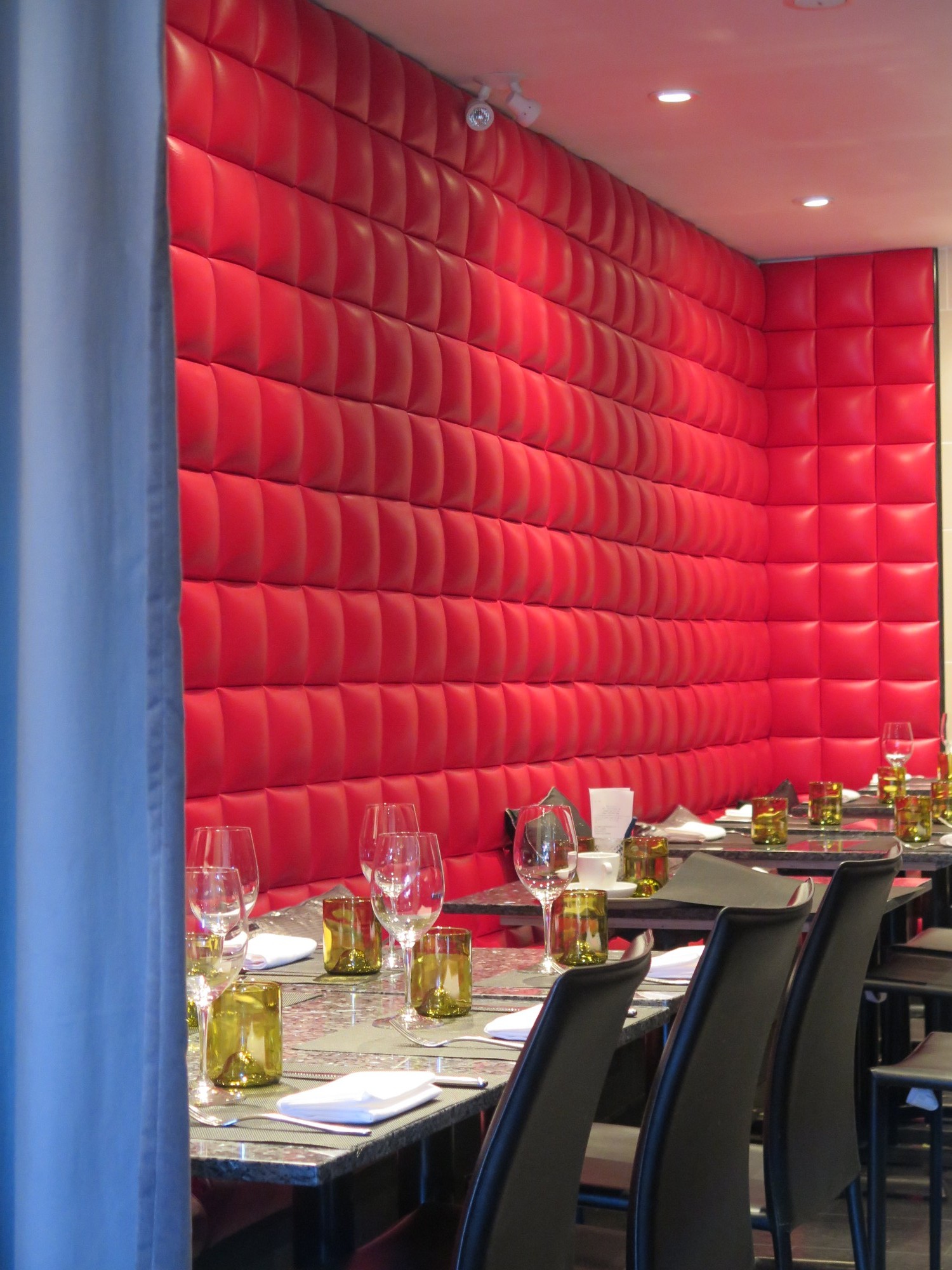 We decide on Vero, a small restaurant on 10th Street with a small patio and a sandwich board out front that says, "Welcome to my heart."  I'm sold.
The interior is shocking…red padded fabric walls, small tables and chairs line the walls.  We sit at the front of the restaurant that opens to the patio.
The menu contains the words; wild boar bacon, hand whipped hollandaise sauce; fresh baked croissant; and "bennies".   Terry has chosen an unlikely bennie paring…..who would think to combine tiny meatballs (made with wild boar bacon, beef and veal) with perfectly poached eggs topped with pomme frites??? Chef Jenny and you are forever grateful that she did.
Hold on your to your Alberta Beef Cakes……..We came back for the Wednesday Chef's Prefix  "Steak & Frites" night. Beware, parking in Kensington is very difficult.  Terry was driving through the maze of traffic and pedestrians  I kept pointing out what I thought were street parking places, totally annoying him (it's hard for me not to be a backseat driver….darn, I should keep my mouth shut)  None were to be found.  For the sake of my good marriage, I asked to be dropped off at the front door so he could find a space in peace.  Good decision on my part.
We are seated at a tiny shiny black table against a shocking red padded wall and begin.  A bottle of Can Maurisset Priorat (Cabernet/Samso,/Merlot/Syrah blend) from Span was recommended and poured.  Deep red, silky and smooth. Plates of sweet melon wrapped in prosciutto, a hand made ravioli stuffed with veal kissed with a bolognaise sauce were followed by the star of the evening…..a New York steak, aged, seared (Pink in the middle) dressed in a secet butter over fries…..oh my…carnivores are celebrated in this exceptionsl restaurant where Chef Jenny also braises supple veal cheeks in a rich Barolo wine.
Here's the link:  http://www.verobistro.ca/home