When we began to camp our friends gave us helpful advise.  They talked about two important things to remember.  The first being to walk around your coach before leaving a campsite.  Be sure the connections for the water and electrical are disconnected to avoid the major calamity of pulling them out of the ground. The second was if towing a vehicle be sure the connections are tight to avoid the "toad" disconnecting to race down the highway without you.  After several weeks on the road, we discovered a third.On a beautiful Sunday morning after our bike ride around Mt. Pleasant, Iowa we ate breakfast, went through our checklist, walked around the coach, pulled in the slide, checked the connections on the Jeep and headed for the open road.  We stopped to top off our tank.
65 miles north of Mt. Pleasant the coach began to lose power, shudder and quit.  We coasted off the highway into the driveway of a Pilot Truck Stop.  Terry tried to start the engine.  No luck.  He checked the dash, there were no red engine lights.  We opened the manual.  The answer was at the bottom of a long list of possibilities.  We had a mis-fuel.  This occurs when gasoline is pumped into a diesel fuel tank.
There is no simple solution to this mistake.  Roadside assistance answered our call, but no one was available to tow us until Monday morning.  We were stuck.
Terry found a Mercedes dealer 22 miles south of us in Iowa City.  Even though they were closed on Sunday we decided to jump into the Jeep and drive to their location.  If we found sprinter vans in their service area there was a good chance they could repair the coach.  We arrived and found two vans in the service area.
We drove back to the coach and opened the door to an inside temperature approaching 90.   We turned on the air for relief.  When we checked the propane levels we found they were low and there wouldn't be enough to run the air for any length of time.  Our once cool and comfortable safe haven was becoming a hot metal box on wheels.  There would be no relief until well after dark.
We talked about getting a hotel room, but decided to stay and suffer it out until morning.  For the next 14 hours, semi-trucks growling like iron dinosaurs, entered and exited a mere 3' from our door.
How did this happen?  Up to now, all the stations we have pulled into had diesel prices posted in green and nozzles with green handles.  Gasoline prices were posted in red and the handles were red or black.  Terry is sure he used green handles to pump the fuel.  We made a call to the station and it turns out they post diesel prices in green and gasoline prices in red but DON'T have diesel.  This station only has gasoline and all their handles are all green.  Mystery solved he unwittingly used the wrong fuel.
The long and short of the rest of the story is Carousel Motors did have a specialist; we were towed Monday afternoon to the dealership.  Steve, the service manager, told us mis-fuels are so common he keeps the necessary parts in stock.  We were the seventh mis-fuel just for July.  Apparently there are hundreds of other drivers who make the same mistake.  Steve's plan was to deliver the coach to us on Friday morning – Monday at the latest.
Now we needed to book a room with a kitchen for a week, unload the food from the fridge/freezer and pack some clothes.  We found a king room at The Chauncey, a boutique hotel in the middle of Iowa City.   What we thought was going to be a typical king room turned out to be a corner studio apartment with a fully equipped kitchen including a dishwasher!  The room is four times as large as the interior space of the coach with two of the walls floor-to-ceiling glass.  It got even better when we opened the door to the penthouse terrace which had 270 degree views of the city.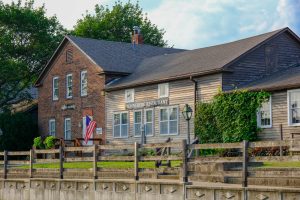 We had so much fun in Iowa City.  We biked on the trails around the university, Kinnick Stadium and rode all the way to Coralville.  We took walks in the city and found a couple of great restaurants.  We went on a day trip to Galena, Illinois.  Steve, the service manager, who lives on the Amana Colonies Golf Course, made arrangements for Terry to play golf one morning with his neighbors. When I dropped him off at the course, I explored all seven colonies of Amana.
Steve called on Thursday to say we could pick up the coach on Friday morning.  We did and headed back to the Amana Colonies to camp overnight and explore the area on our bikes.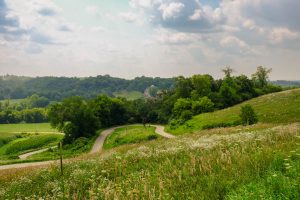 On Sunday morning, a week after our mis-fuel, we left Amana and were off to Decorah to camp and ride the Trout River Trail.  The 26 mile trail winds its way through meadows, corn fields and forests.  We were on our way from Decorah to Clear Lake State Park, near Forest City when the red engine light came on.  We called Steve and drove back 187 miles to Iowa City.  Steve had us back on the road within the hour to travel another 176 miles to Clear Lake.
In addition to the annual service, we had to wait an extra two days for parts to complete the repairs on the hydraulic jacks  This delay meant we would have to cancel our visit with James and Sally in South Dakota.   The fires and smoke were also impacting our route west.  After reading emails from friends who summer in western states, we scrapped the rest of our trip west.
Where would we go instead?  Steve (remember him?) made recommendations to visit Little Switzerland in Iowa and to go further north into Minnesota.  So we made plans to visit Elkader and explore eastern Iowa.  We are so sorry for any of you caught up in the drought and fires.  We aren't sure of our route home yet.  At the moment we will go as far north as Silver Bay, MN before turning southwest.
We have found silver linings in all our calamities….be safe until next time.
P.S.  Terry is teaching me tricks in the post-processing of my photographs.  I've included a few that are trending toward contemporary paintings…you will either love 'em or hate 'em.