Hello and Happy Autumn!  This has been the summer we did something we thought we would never do to beat the heat of Arizona.  Over the past 10 years we traveled internationally staying in VRBO homes, hotels and with friends.  Last summer we tried camping in an RV around the USA.
As of this writing, many of the countries we would like to visit have closed borders because of COVID.  So we did it… something we thought we would never do again…..we bought a second home.
Last summer we visited Grand Junction Colorado to see where our friends were building a home in the neighboring city of Fruita. We really liked what the area had to offer and we found ourselves talking about finding a second home.  We contacted a realtor and returned in November of 2021 to look at homes. We fell in love all over again with the area, but none of the homes were quite right.  We came home and watched the market for the next few months.  We made offers on a couple of the homes without success. The market was crazy with most homes being sold in multiple offers.
On a Friday morning in early March, Terry got a computer notification of a new listing.  The realtor called about 5 minutes later to tell us about the home.  She had good news/bad news….the house had almost everything on our list, but there were already several offers.  If we wrote an offer, it would be a "best and final", so we would only have one shot to secure the home.
It was not the best timing to be writing an offer.  We were focused on Bernye's (Terry's Mom) care.   She turned 100 in February and had just been put on a morphine drip on Thursday afternoon.
We went ahead and wrote our offer on Saturday morning; the sellers accepted our offer on Sunday morning and Bernye died within hours of the acceptance.  On Monday morning, we made arrangements for Bernye and drove to Grand Junction with fingers crossed the home would live up to its photos on the internet.
After 9 hours we exited the freeway into an area we had not explored before.   We followed the GPS down a country road through farmland.  We turned a corner and there is was, just like the photograph in the middle of a pleasant neighborhood of about 100 homes at the base of the Colorado National Monument.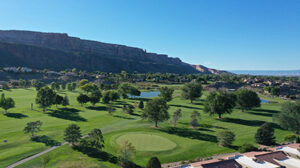 And, it was perfect!  Much to our surprise, there was a golf course right across the street.  Last April we moved into our home for the summer.
We chose Grand Junction for many reasons:  the city is in a wide valley surrounded by the Colorado National Monument, the Book Cliffs/Mt. Garfield and The Grand Mesa.  Grand Junction is where the Gunnison and Colorado Rivers meet.  It is a city with a small town atmosphere; mild seasonal changes throughout the year; hundreds of bike trails from Loma to Palisades; hiking literally out our back door to the National Monument; a vibrant art scene; fresh from the fields farmer's markets; the wine trail – think Sonoma of 40 years ago; thousands of miles of off road trails which we won't live long enough to travel; the pines and over 300 lakes of the Grand Mesa; and all the Rockies have to offer with Telluride, Aspen, Vail, Ouray, Silverton, Glenwood Springs, Crested Butte, Breckenridge and more within a few hours drive.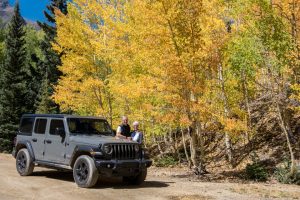 We kept our Jeep and joined the local Jeep Club to explore and take photographs of the beauty in the landscape around every steep corner.
We are off this weekend to "leave peep"…..until next time.