In 2017 we spent 3 weeks in Nova Scotia driving from Halifax to Peggy's Cove, to Chester Basin and Wolfville.  This year we are spending 8 weeks driving the entire island.  We learned not to always trust the GPS.  It will take you on a direct route that may include a few rough dirt roads.  To avoid any surprise off roading, we got an old fashion paper map.
Everything went according to plan in Halifax and Chester.  We were derailed at our next stop.  We arrived at what looked like an abandoned cottage.  The gardens and landscape were overgrown with weeds and debris.  The fire pit was decorated with crushed beer cans and had partially burned wooden chair as its centerpiece.  It got worse when we went inside.  The dim and grimy interior featured stained and ripped furniture.  The bedroom closets and dresser drawers were stuffed full with odds and ends.  The Ninja Turtle costume was especially entertaining.  The sink faucet handles swayed and swiveled when used.  Doors didn't close properly.  The heating and air-conditioning unit groaned, spitted and sputtered.  The open shelves were adorned with orphaned pots and pans and unmatched plastic dinnerware and glasses.  My kingdom for a good knife….there were three in the drawer and I found them to be dull and two had the tips broken off.  The linens and towels were stained, torn and thread bare.  A moaning refrigerator whose freezer proved to work only on occasion was the cherry on top.  20 days here???  Heaven forbid.  We pulled out the map, made a few phone calls and we had a plan.  We packed a bag, stored the rest, and locked the front door.  Our unplanned adventure would begin across the island in the Annapolis Valley.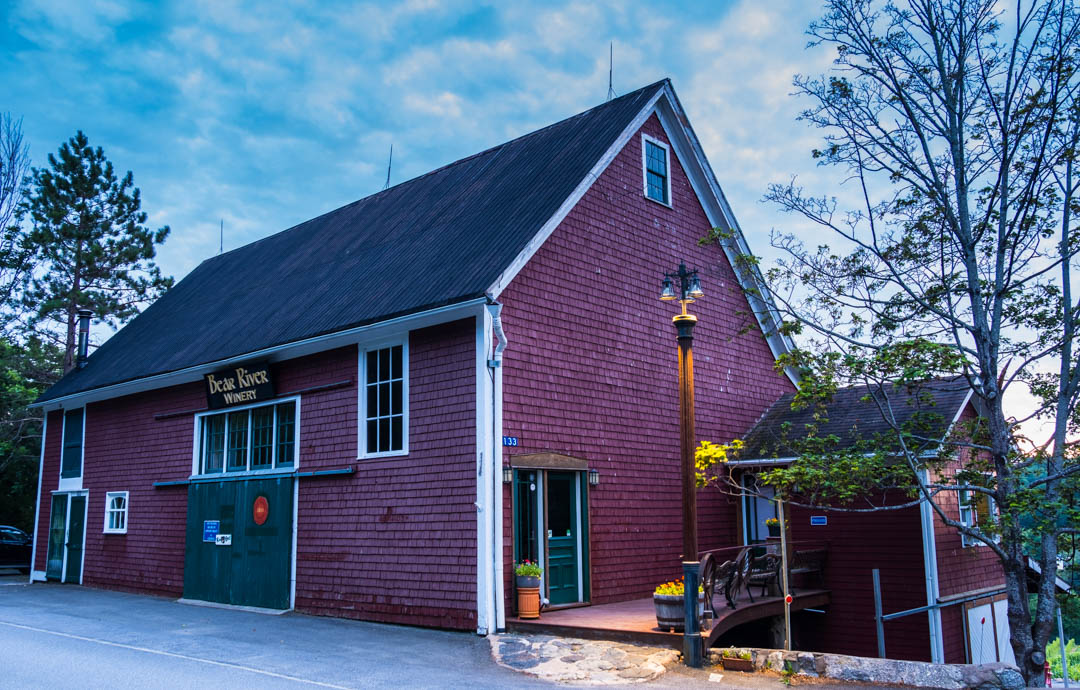 Our first of three planned stops was the Bear River Winery.  A perfectly appointed guest room with a big feather bed, down comforter, fluffy white towels and robes was all ours for a couple of days.  We dropped our bag and went on a tour with Darren, the new owner.  French settlers first planted vines on the rolling hills in 1611.  The tasting room and gravity fed wine making operation are housed in the bank barn which dates back to 1883. Bear River is an artist community. Their studios and gallery buildings are built on stilts to compensate for the twice daily extreme tidal bore.  Using Bear River as a base, we explored Digby, Annapolis Royale and Bridgetown.
The next stop was Bayside Farm and Cottages a designated "Heritage Property" on St. Mary's Bay near Weymouth on the Acadian Shore.  Louise and Roger, our hosts, invited us to join them for a French Canadian celebration at La Cuisine Robicheau, an Acadian restaurant.  We brought local wine to share and ate plates of "fruits de mer frais de la region et cuisine acadienne".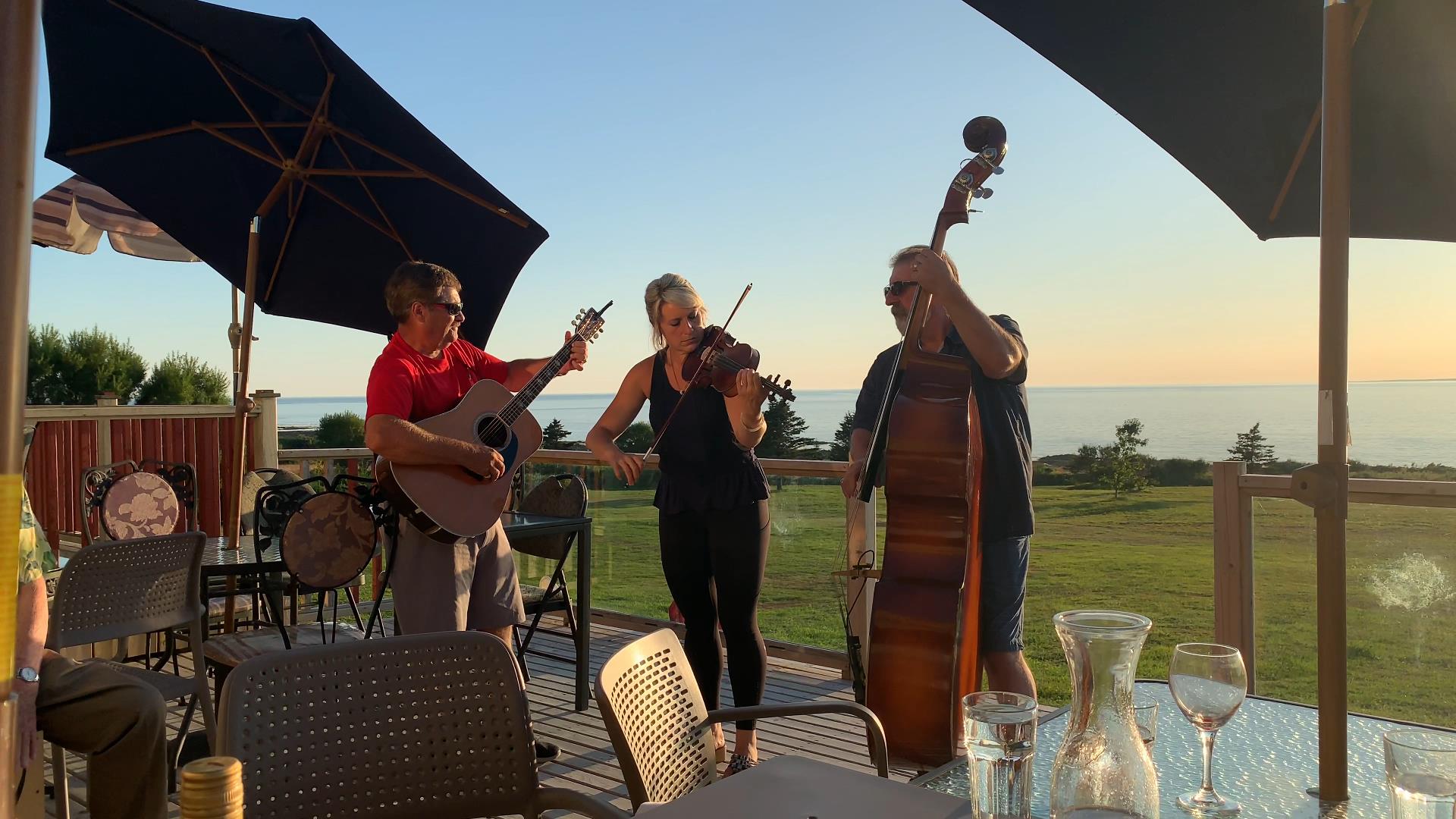 A Zydeco band performed on the deck.  We joined the others to clap and sing until the sun went down over the ocean.  In the morning we took a short drive to Tiverton, boarded a ferry to see the "Balancing Rock" on Long Island.  We hiked about 20 minutes to a staircase leading to a viewing platform.  Jetting into space a narrow column is precariously perched atop a sandstone base.  How it continues to stand is a mystery.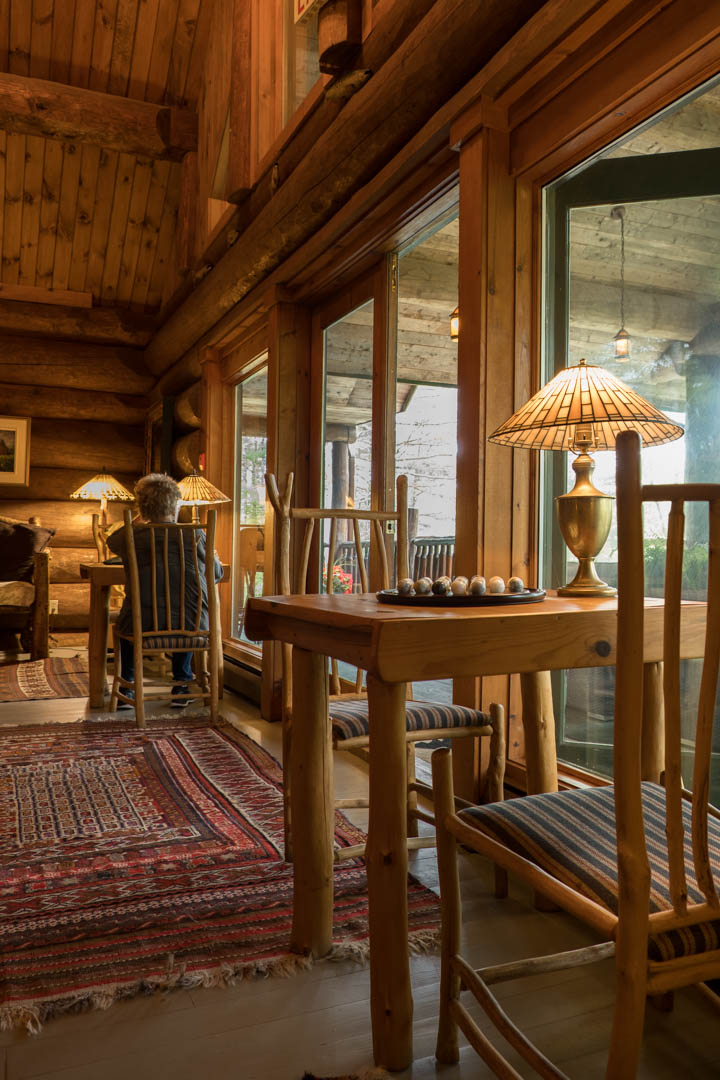 Our last stop was Trout Point Lodge situated in the Tobeatic Wilderness Area, a Southwest Nova Biosphere Reserve.  The dense tree growth on the red dirt road to Trout Point blotted out the sun.  It grew darker and darker the deeper we went into the forest.  No bars on the cell phone.  We thought we made a wrong turn just when the lodge came into view.   Dedrea appeared magically at our car door and greeted us by name as we climbed out of the car.  She led us to the warm, rustic great room and settled us in by the windows with a view to the river.  "We know the drive can be stressful, just relax and we will get your luggage to your room," and with that she handed us two glasses of dry champagne.  All the kinks and knots melted away. We finished our check-in and were led to our spacious guest room complete with roaring fire.  Dedrea encouraged us to walk the grounds before dinner.  We found large outdoor entertaining areas and small intimate seating areas, a small river emptying into a  large pond, a hot tub under the stars, a sauna surrounded by pines, and a raised boardwalk with trails through the woods.  5 stars to be sure.  The French chef would be providing a 7 course dinner.  This is how the other half lives!
If the cottage we rented had been everything we wanted, we would not have found the joys of our alternative plan.  So, it is true…..when handed a bushel of lemons, make lemonade!