For the next six weeks we will be traveling by the seat of our pants.  That's the way Terry likes to travel…no reservations and decisions made on the fly.  I'm just the opposite.  I'll research something to death, agonize over my decisions and then make reservations.  Well, judging by our experiences In Little Switzerland, Terry may have a good point. We set up camp in Clear Lake, Iowa near Forest City.  When we dropped the coach off for service, we took the tour of the 60 acre Winnebago factory.  Inside the factory we watched each step of the build from a catwalk high above the production teams.
Life in Clear Lake is like a Rockwell painting come to life.  Cabin Coffee became a favorite spot to drink Turtle Mocha coffees and eat chocolate croissants.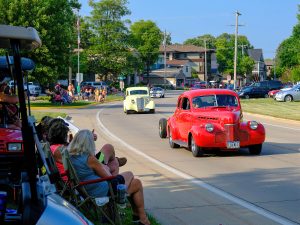 We balanced those decadent treats by riding several 16 mile trips from our camp around the lake on the Sister's Prairie and Trolley trails.  The annual Classic Car Parade was held over the weekend.  More than 100 cars paraded by cheering enthusiasts who lined Lake Shore Drive.
After leaving Clear Lake, we will spend a week or so exploring Little Switzerland.  Most of the Midwest was covered by glaciers during the Ice Age.  As the glaciers receded they flattened the landscape.  Only the "Driftless Area", which includes regions in southwestern Wisconsin, southeastern Minnesota, northeastern Iowa, and the extreme northwestern corner of Illinois, escaped the flattening effects.   Any rolling hills present during the Ice Age remain into the present day, making this one of the most beautiful areas in the Midwest, commonly referred to as Little Switzerland.  We were surprised to find steep, forested ridges, spring-fed waterfalls and cold-water trout streams in one of the most beautiful areas in the Midwest commonly referred to as Little Switzerland.
Our first stop is Elkader, a historic small town, celebrating its 175th anniversary. From our camp at Deer Run, we rode through the surrounding forests on the Pony Trail.
This is a big shout out and thank you to Steve and Renee.  When they set up camp, they pulled out a "Quick Set" by Clam.  We went over to take a look.  The screened room sets up in under 3 minutes.  It unfolds and folds back up like an umbrella. It comes in several sizes and protects you from the sun, wind and  insects. I fell instantly in love with this little contraption and had to have one.
There have been many days I longed to be outside but stayed in comfort of the coach because of the sun and insects.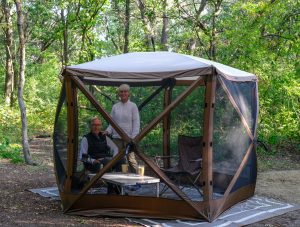 Terry found a store in Cedar Falls where we could pick up a "Clam" and also ride a bike trail from Cedar Falls to Waterloo and back.  Late that afternoon we got back to camp, unpacked the Clam, positioned it over the picnic table, opened a bottle of wine and enjoyed dinner under the stars.
On our trip, we made it a point to find and ride paved bike trails.  A favorite was the WASPI trail that runs between Elma and Riceville  just off Highway 9. We traversed through five biospheres on our 30 mile ride: prairie, wetland, farmland, marsh and woodlands and crossed three waterways: Wapsipinicon River, Watson's Creek and Lake Hendricks.  During the winter locals use the trail for cross-country skiing.
When we changed our route home, we also had to cancel our photography workshops.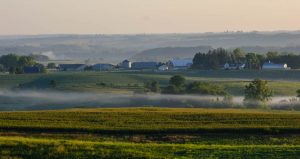 Terry made up for that when he woke before dawn to drive us along Highway 13 near Strawberry Point.  We caught the sun as it was rising over the rolling rolling hills where fingers of fog were layering themselves over the corn fields and and farm houses.
During our stay we explored several other small towns including McGregor, Dundee, Clayton and Lansing.  We hiked Pike's Peak, Hickory Ridge and Bridal Veil Falls.  The Crow's Nest lookout changed my long held belief that the Mississippi was just a wide waterway filled with boats and barges.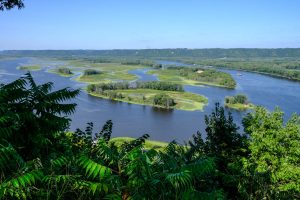 The panoramic view encompassing over 240,000 acres revealed there are actually forested islands in the middle of the river.  At the Fish Shack in Guttenberg we had to "walk the steep plank" to the front door.  The restaurant's screened porch is suspended over the Mississippi.   Between bites of battered catfish, peachy potato salad and a crab/cream cheese spring roll we watched pleasure boats and tugs pushing barges through Lock and Dam Number 10.
Lansing was our last stop in Iowa.  In the few days we were there, we explored the apple orchards around Gay Mills,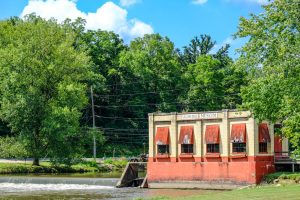 a Farmer's Market on the Kickapoo River and drove the western and eastern shores of the Mississippi. Late one afternoon we found ourselves not far from La Crosse, Wisconsin. We decided to stop for dinner at The Waterfront Restaurant.  We sat on a wide patio watching the sun set over the Mississippi while raising a glass of cold wine to our lips after taking a bite of perfectly cooked scallops. My mouth is watering just remembering that moment!
Forget about booking an expensive trip to New England to see the changing of the leaves.  This is the place to be if you are looking for glorious colors when fall arrives.  Coniferous trees such as cedar, pine and spruce and deciduous trees such as ash, birch, cherry, elm, hickory, maple, popular, willow and oak border the bike trails, highways and surround the lakes, pastures and farms.  As the weather changes announcing the onset of winter, the trees turn into towering statues adorned in patinas of aged bronze, deep orange, bright red and buttery yellow.  This breathtaking beauty won't be found in Vermont where this riot of color contrasts with the limestone cliffs and bluffs along the shoreline of the Mississippi.
We are getting ready to depart for Sturgeon Lake, Duluth and Lake Superior and are witnessing some change in the leaves of trees along the bike paths.  Until next time….