This is a university town on steroids.  The University of Oxford is first mentioned in 12th century records, making it Britain's oldest place of formal education.  At present there are about 38 universities. Our VRBO is in Wheatley, a small village, just 10 minutes by car from city centre.  In 1661 John Gadburn built a compound behind tall wooden gates for his family.  At that time the estate consisted of hundred of acres of prime land once owned by the abbey.  "Gadury Cottage", our VRBO,  is just across the courtyard from the main house.  The cottage was once the second kitchen and both are  built from the yellow limestone so popular in this area.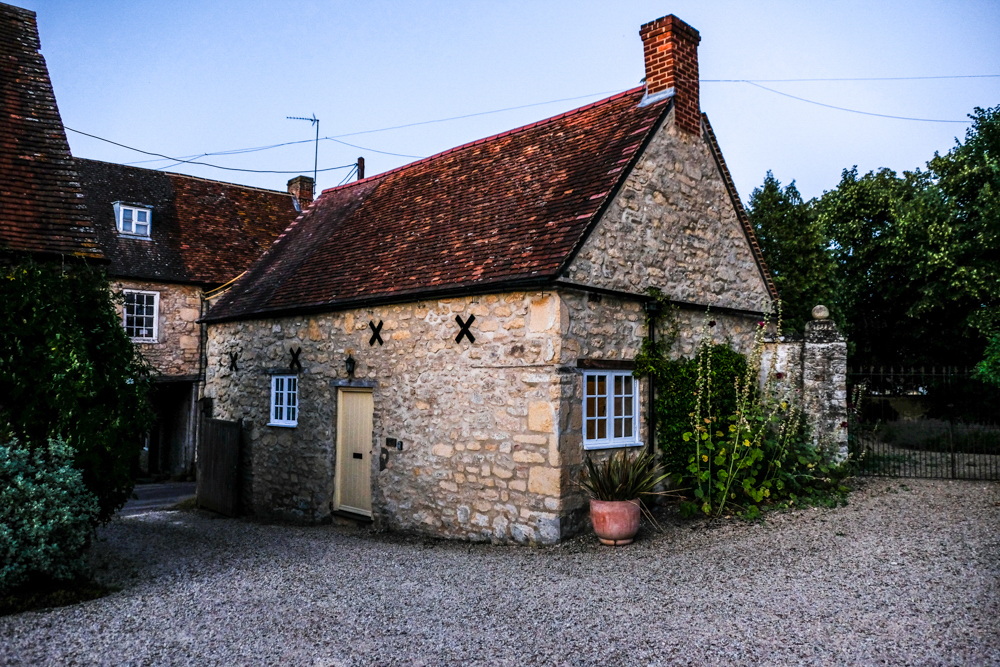 Inside there is a great open fireplace, not that we need that in the 85 degree weather at present.  We have all the modern conveniences, they just are in miniature.  The cook top is the size of a dinner plate; the oven, washer/dryer and refrigerator are the size of a dishwasher.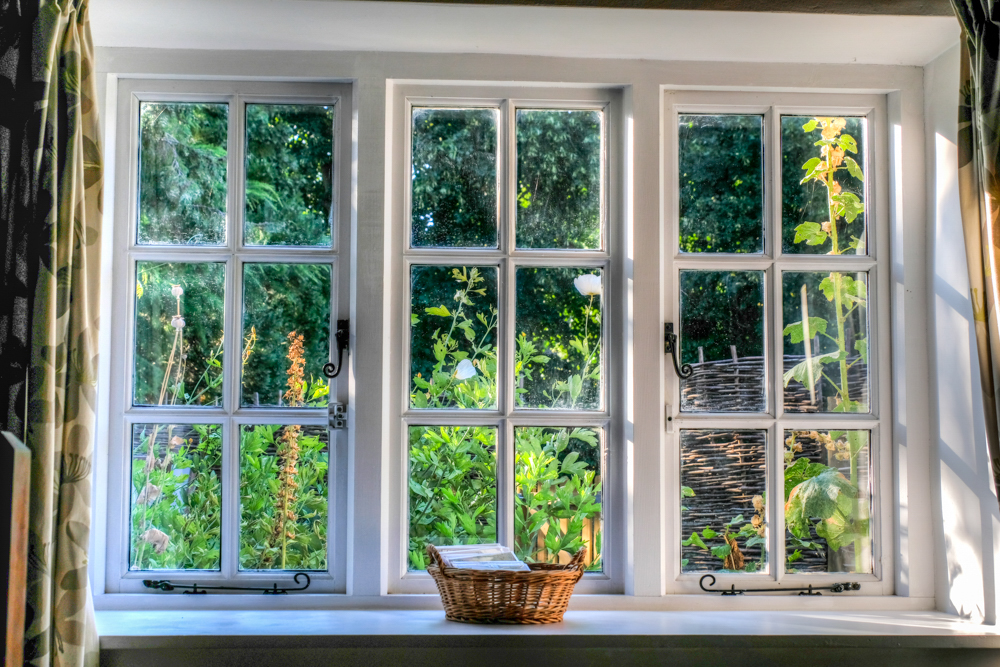 All the windows look out to the beautiful gardens.  There will be no driving to Oxford.  We are parking the car and mastering the bus service.  The stop is just a five minute walk from our front door.
We made our way to Oxford the following afternoon via a very efficient bus system.  We hopped off at High Street and walked up Turl Street to meet Stuart of Oxford Walking Tours at the blue gates to Trinity College.  There were 8 of us and we spent about 2 hours walking to several important sites:  Trinity College, Bodleian Library, Radcliffe Camera, Christ's Church gardens, New College (founded in 1379) and Braesnose College.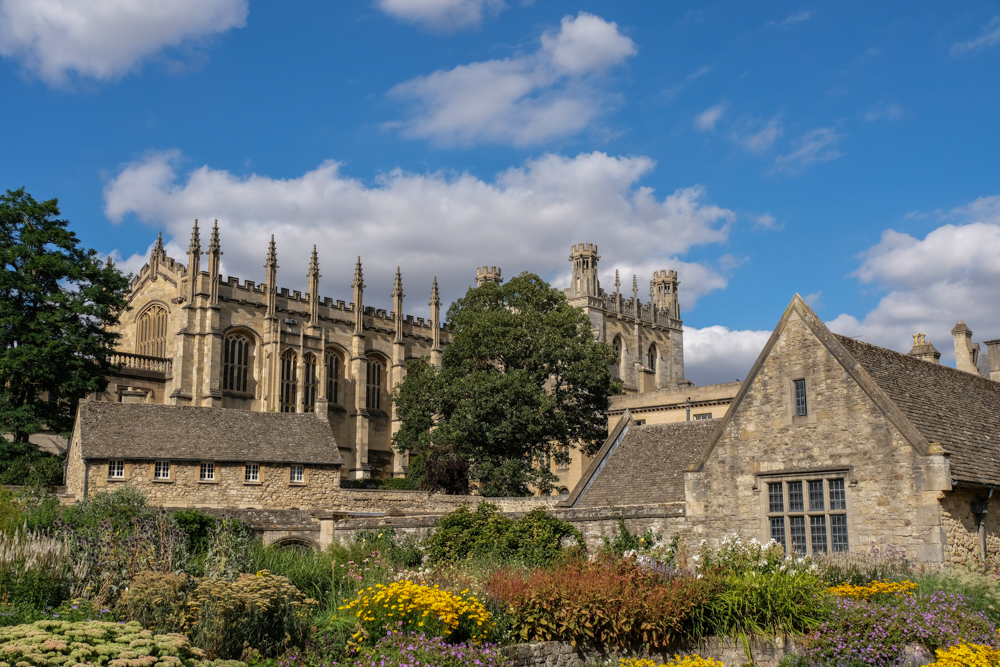 We were able to go into rooms that normally are closed to the public.  It seemed like Harry, Ron and Hermione were just around the corner as we listened to the history of the college inside the dining room in New College.  This beautiful wood paneled hall with raised platform for the fellows and teachers was the inspiration for the dining hall in Hogwart's College.  We roamed through the library, chapel and common rooms.  The colleges and grounds have either been the actual filming site or inspiration for many  movie sets.  We took refuge under the leafy arms of a 200 year old oak tree in the courtyard of the cloisters.  If you are a fan of Potter, this is where Barty Crouch Jr.  cast a spell on Draco Malfoy and turned him into a ferret.
The Sheldonian Theatre is considered to be the jewel of Oxford.  It is a ceremonial hall designed In 1662, by Sir Christopher Wren.  This was Wren's first major commission. Constructed was between 1664 and 1669.   Gilbert Sheldon, later the Archbishop of Canterbury, funded the classical building at a cost of 14,470 Pounds and 11 Shillings and 11 Pence.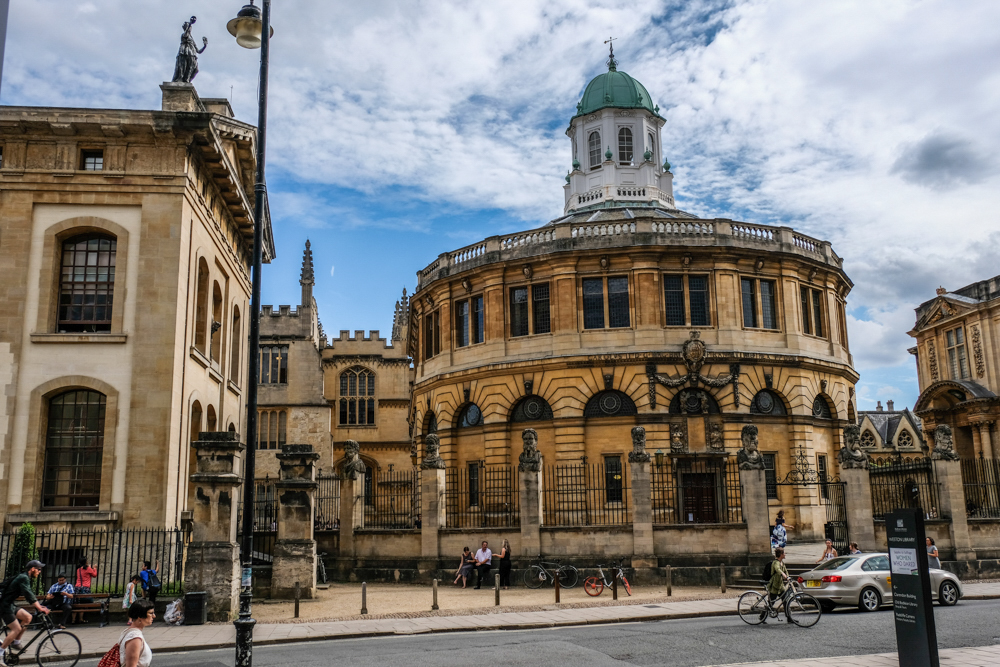 The original roof, a masterpiece in its day of architectural design, is made up of a series of timber trusses and complicated cross beams supported by braces and screws without any columns.  The painted ceiling is the work of Robert Streater.  It comprises 32 separate panels brought to Oxford by barge. This is where students are admitted to the University and where they receive their degrees.
My brother, Bob, donned his cap and gown and joined a very impressive group of graduates when received his degree from Oxford last fall.  He has the very big brains of our family and I am so proud of him.
We climbed at least a hundred steps to reach the Cupola atop the Sheldonian Theatre.  Our reward was a 360 degree view across central Oxford.  Here were the rooftops of Trinity College, Wadham College, University Museum of Natural History, Wadham College, the Clarendon Building, Manchester College, Hertfod College, New College, Tower of the Five Orders, Magdalen College, All Souls College, Radcliffe Camera, University Church Exeter College Wesley Memorial Church, Balliol College and much more!
I really enjoyed wandering through the Covered Market just off High Street.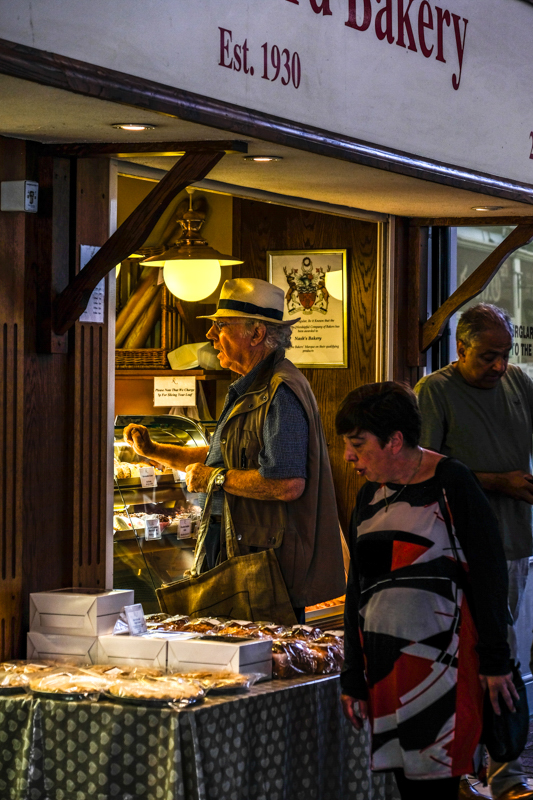 It officially opened in 1774 as the response to clear "untidy and messy stalls" from the main streets of central Oxford.  John Gwynn, architect of the Magdalen Bridge drew up the plans.
Almost all the goods and certainly the food are local to Oxford.  This is a very pleasant alternative to the shopping streets and indoor malls further down the street.
My major disappointment is not to be able to visit Blenheim Palace, Churchill's birthplace.  The BBC is having a major, three day event during our visit.  Perhaps next time.  Here's a link: http://visitoxfordtours.com/blenheimpalacetours.html
Oh, food is alive and well.  We particularly enjoyed two restaurants:  Home (no web site) in a soon to be gentrified area on the other side of the Thymes River, very casual with picnic tables in the patio.  No. 1 Ship Street, very small and elegant interior on a quiet street in central Oxford https://www.no1shipstreet.com/.
Both restaurant menus change with the farm to table availability.  From the grilled halloumi and aubergine burger, lamb meatballs in a spicy sauce to red wine risotto with radicchio both restaurants are excellent.  Another surprise!  I like Rose′ wine if it is dry and very, very cold. If it's hot where you are, try a dry one from France, quite nice in warm weather and goes with almost anything.