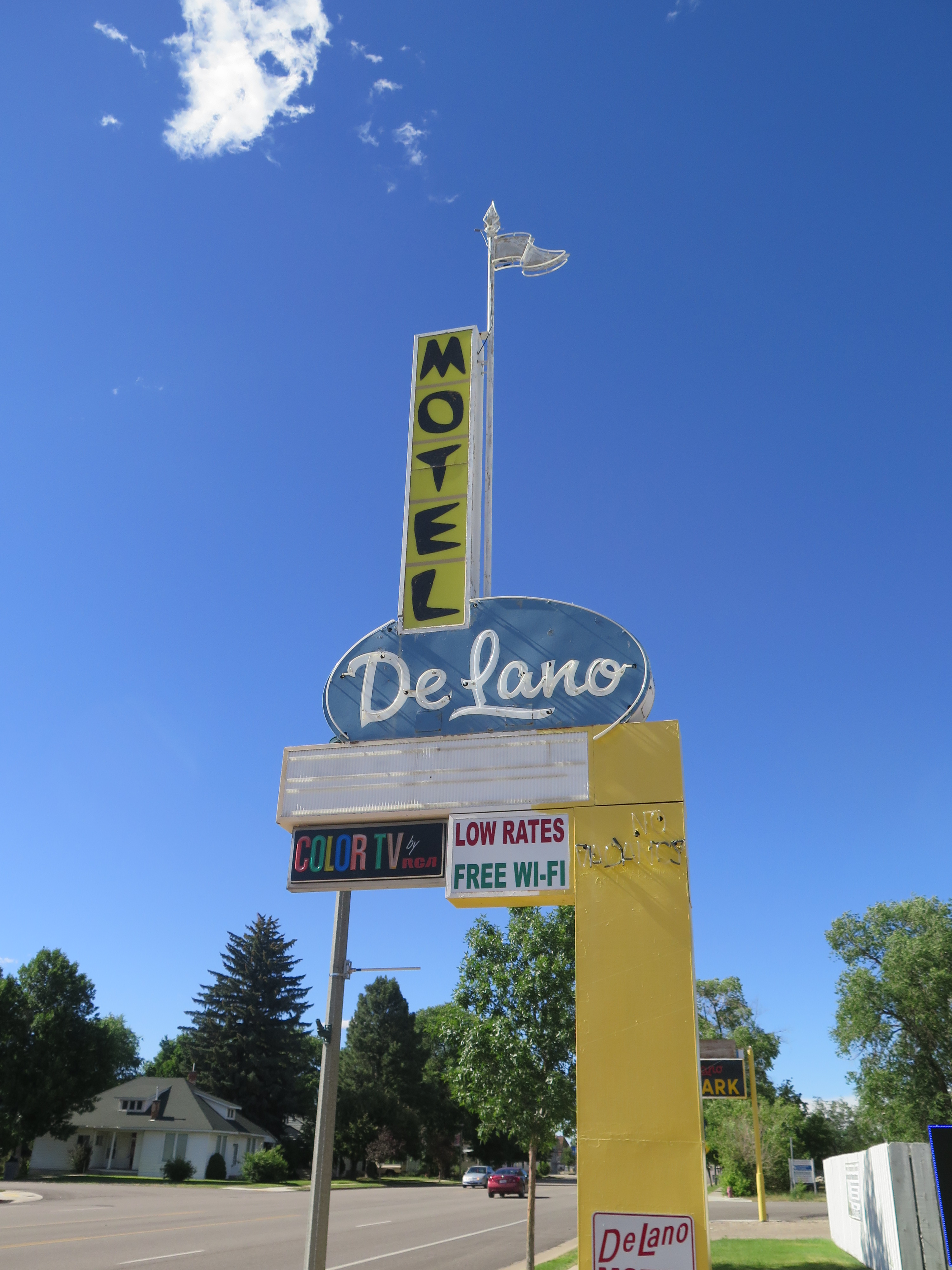 We turn off highway 89A, gravel crunching under our wheels, pulled up to the lobby door of the DeLano and burst out laughing. Ever see Psycho? Here's a 1950's style motel with a 4-star rating and newly remodeled rooms one must push a buzzer for admittance. Is it a good sign? Beaver, UT, our first stop, population 3,000…sneeze; blink or cough and you are through Beaver.
I am behind the wheel watching the rear view mirror.  Terry and the clerk cross the parking lot to stand before a dark green wooden door; key is inserted, door opens, clerk disappears with Terry close behind.  Suddenly  Terry makes an about face; he and clerk are marching in unison back in my direction.
Terry's head is bowed then raised with  "What the Hell" plastered on his face. We've moved on from "Psycho" to "Goldilocks"…there was a man sleeping in our reserved bed. We took the opportunity to get our "non-refundable deposit" returned and headed down the road for other accommodations.
We stopped and passed on a room at Best Western Butch Cassidy, you've seen the one with a "tub for 10 of your closest friends" in the middle of the room; to find ourselves opening the door to last room available at the Best Western Paradise Valley. We leave around 7:30 for dinner to the sound of running water from the room above.
Maria's Cucina is in a little log cabin just two miles from the center of town. We are back with tummies stuffed with tasty tacos looking forward to sleep…remember the running water? It began again around 9:30…harsh, cascading Niagara pounding water. This unrelenting noise went on for over an hour. Water torture subsided around 11. Okay, head to the pillow, eyes closing, drifting off to sleep. Whoosh….the sound of pipes bursting again at 12:15.
We called the front desk, who sent housekeeping, no answer by occupant (we could hear them walking, but apparently they don't answer the door or phone)….water off around 1:30…we drift off to sleep to discussions about the who, what and why….it made no sense for anyone to have a tub running for hours on end. Dismemberment of bodies, cleaning a freshly caught elk….your guess is as good as ours.
We are glad to be on the road before the sun rises.  I thought about banging on our ceiling with the luggage rack to return the favor, but Terry advised restraint.  Once again his hands grip wheel and we are off both thinking the same thing regardless of where we stay in the fuure, anything will be  "better than Beaver".