St. Andrews is on the east coast of Fife.  The university is still standing and has been expanded.  It is the third oldest in the English-speaking world and the oldest in Scotland.  The cathedral, once the largest in Scotland, now lies in ruins.  There has been a settlement on this estuary fringe of the rivers Tay and Eden from as early as 5,000 BC.  The establishment of the present town began around 1140. 
On to the more important stuff…..The "Royal and Ancient Golf Club" was founded in 1754 and is known worldwide as the birthplace of golf.  Terry came with the hope of being considered to play the Old Course or any of them for that matter.  St. Andrews is a beehive of activity this week and the courses are booked.  The OPEN is being played in Carnoustie.  All the Little Guns and BIG GUNS are in town.  I've seen a few guys in golfing attire that would give a friend of ours, Tom Courtney, a run for his money.  The knickers, socks and shirts have patterns and colors straight from a toucan's beak.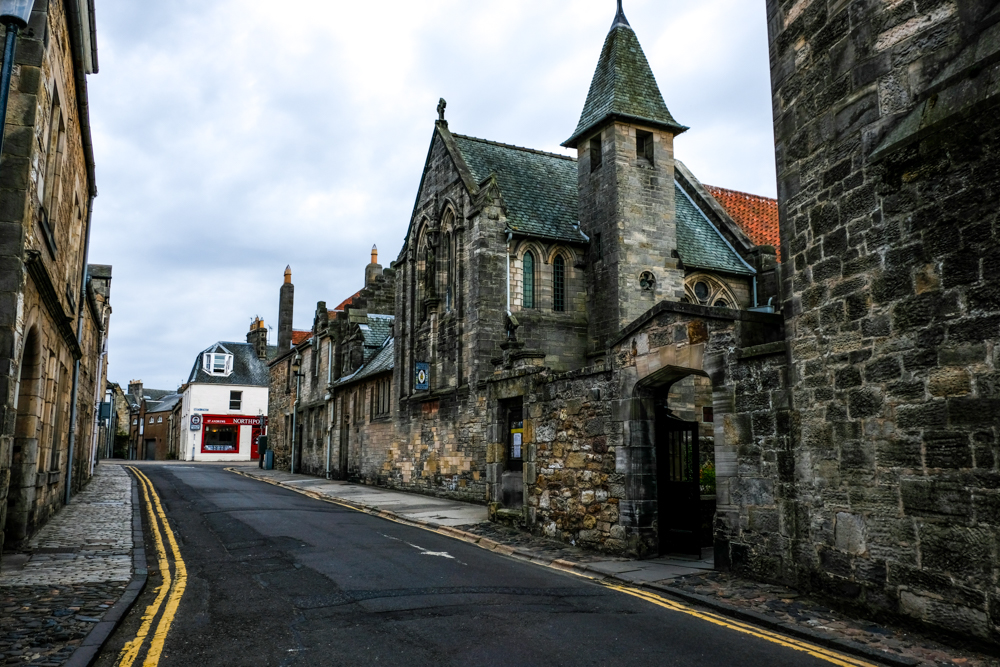 The buildings on the main street and down the little alleyways are in pristine condition thanks to the St. Andrews Preservation Trust established in 1939.  This forward thinking group has saved countless buildings, some built as early as 1535, from demolition.
We are staying in a lovely new apartment housed in a historical building that was once a girl's school.  Renovating a historical building can be costly, yet preserving the historical architecture has great rewards.  Think of what it would look like if developers in St. Andrews were left to their own devices.  Mow it all down and recreate a Disney-like village in its place.
Late in the afternoon we walked down Market Street to the Old Course.  There we were walking beside the 18th fairway on the Road Hole.  I expected a fence, stone wall, something to separate it from its surroundings.  Not so.  There it is in all its glory.  We did notice the club had its benches chained off for members only, not for public use.
Terry had his moment in the sun.  I photographed him on the Swilken Bridge.  It spans the Swilken Burn between the first and eighteenth fairways.   The bridge itself is only about 30 feet long and 8 feet wide and built about 700 years ago to help shepherds get livestock across.  Today, it has three photographic advantages; backdrops of the Royal and Ancient Clubhouse and Hamilton Hall, packed grandstands of enthusiasts and the rolling hills facing the North Sea.
Terry couldn't play but he now shares a place in history with other notables such as Sam Snead, Tiger Woods, Lee Trevino, Arnold Palmer and the like.   This is where Jack Nicklaus gave his final farewell to professional golf and Tom Watson kissed its edge.    I read a poem about the bridge…."Swilken Bridge over the burn flows thru the old course.  It should be the bridge of sighs since so many disconsolate golfers must have crossed it, cursing their drives."