In 2014, the City Centre Mural Trail was officially launched to promote the growing portfolio of murals adorning buildings within Glasgow.  The murals showcase a diverse range of talent and styles and are recognized as unique pieces of art in their own right.  The sheer sizes of some of the murals, some several stories high, were overwhelming. 
We have a full day and are off to meet Tom Docherty www.photowalkscotland.com.  His workshop will include photographing  the murals around the city.  After a mid-day break, we three will walk the university grounds, visit the Kelvingrove Art Gallery and Museum and finish at the Cathedral.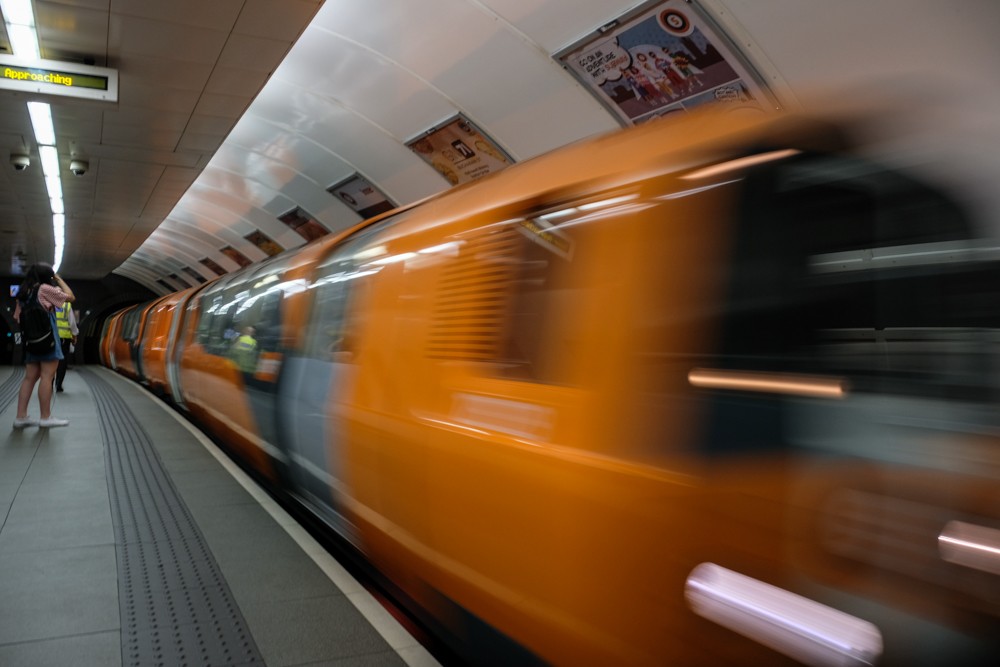 Okay, now I have to brag.  I have finally taken action shots.  Terry is already quite accomplished at shooting action, I have been terrible.  I just couldn't get it.
My first success was capturing the underground train as it pulled into the station.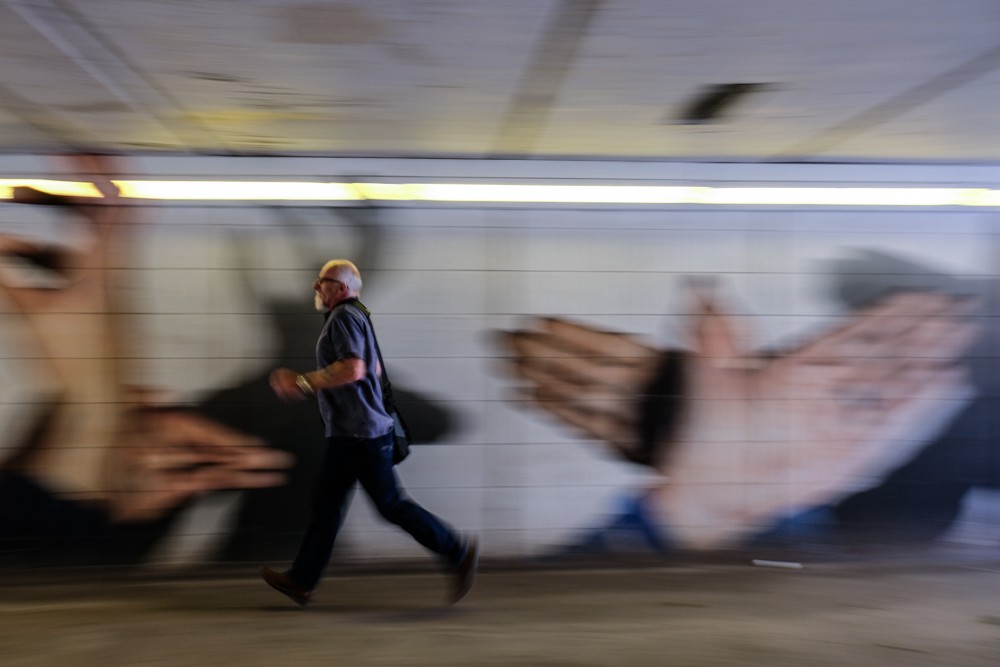 The second was when Tommy, acting as my model, I captured him running through a tunnel with street art.
The murals you will see in our gallery were created to celebrate sports, scientific achievements, wildlife and local celebrities.  Many of the titles are humorous or have double meanings.  Billy Connelly, a comic and actor, is quite popular here and he has several murals in his honor.
Here are some of their names, "Wind Power", "Honey, I shrunk the Kids, I'm Sorry", "Dr. Connolly I presume?", "The World's Most Economical Taxi", "The Wonderwall" and "St. Mungo".   See if you can match the names to the murals.  When walking a mural competition site, we met an artist from Belgium who was completing his art work along with two others who were painting over an old mural.
At the moment there are 24 murals throughout the city.  Tommy is creating a photo book of the art work.  The artists regularly paint over their own work.  Nothing is forever.
Glasgow Cathedral is said to be the birthplace of Glasgow.  It is the only one on the Scottish mainland to survive the Reformation of 1560 intact.  We also visited the Necropolis in the hills behind the Cathedral.  It is modeled on Pere-Lachaise in Paris.  Everyone who was anyone is buried there.  You can climb to the top and look back over the Cathedral for an amazing city view.
We finish the day with dinner at Jamie Oliver's restaurant near our apartment.  I generally shy away from celebrity chef's restaurants….but his is outstanding!  After several days in Glasgow, we pack up and head for the Isle of Skye.  We have heard walking the hills in Skye is like being at the top of the world, far away from civilization.  This sounds just like what the doctor has ordered for Terry….he is very tired of driving the city streets.  I'm looking forward to the Rosedale, our hotel on the bay and working with Karen Thornburn photographing landscapes.
click on any picture to enlarge