We have lived in Arizona for almost 6 years.  I love our life here.  However,  I've had trouble finding beauty in the desert and adjusting to the heat, gravel and cactus.  I miss the moderate weather and green trees of California.  The practice of photography has given me an opportunity to look at my surroundings differently and stop whining.  The southwest is vast, stunning, majestic and unforgiving.  If you don't give Mother Nature the respect she deserves she will slap you hard.
In mid-October we packed our cameras, tripods, energy bars and plenty of water and joined our camera club for a three-day shoot at Monument Valley, otherwise known to the locals as "Tse Bii Ndzisgaii", Navajo for Valley of the Rocks.
After six hours on the road, we arrived as the late afternoon sun turned the sandstone buttes of the Colorado Plateau fiery red.  The largest column rises over 1,000 feet from the valley floor.  Not much has changed since John Ford looked through his lens in the 1930's and filmed John Wayne riding through this landscape, immortalizing the untamed West.
This love of photography makes you do crazy things… like getting up at 4:30 to capture the perfect light of a sunrise.   On our first morning, our guides took us to the Totem Pole Monument.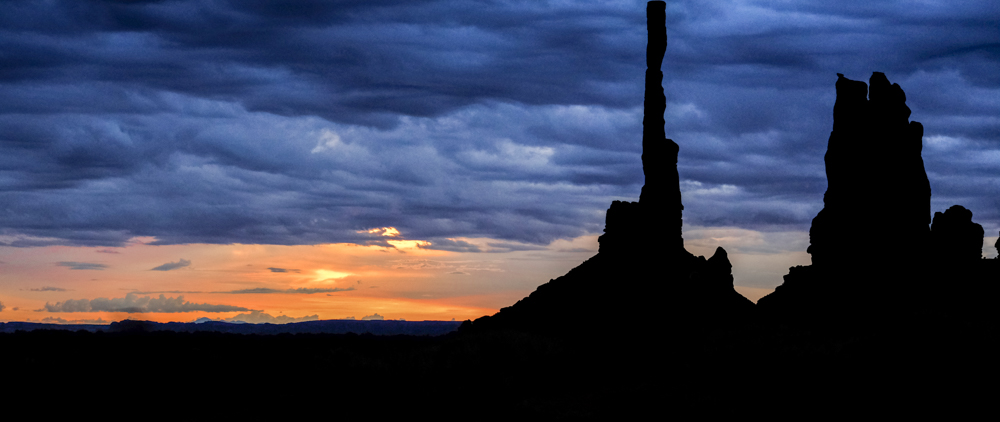 Ever tried to set up a tripod in the dark?  Well, I should have put a blindfold over my eyes and practiced at home.  I paid the price and lost one of the tripod's rubber feet in the sand. "Calamity" is often my middle name on trips, so I considered myself fortunate I didn't fall into the wash or trip over the tree roots moving around in the dark.   Note to self…get a stylish headlamp.
Things went much better that afternoon when we drove the 17 mile single-track dirt road through the valley.  Don't even think of bringing your sedan.  You can choose to ride in a open air jeep with a guide or drive a SUV.   In our own car we could get up close and personal with these million year old beauties.   The drive took almost 3 hours because we (more me than Mr. T)) had to stop each time we came around most of the bends.  The Three Sisters, Cly Butte, Camel Butte and John Ford's Point demand you get out and look.  They have been here all this time, patiently waiting for us to discover them….don't wait as long as we did.
Early to bed, early to rise….we were up and out the following morning before the sun and captured Sentinel Mesa, Big Chief, Stagecoach and Castle Butte ringed in clouds.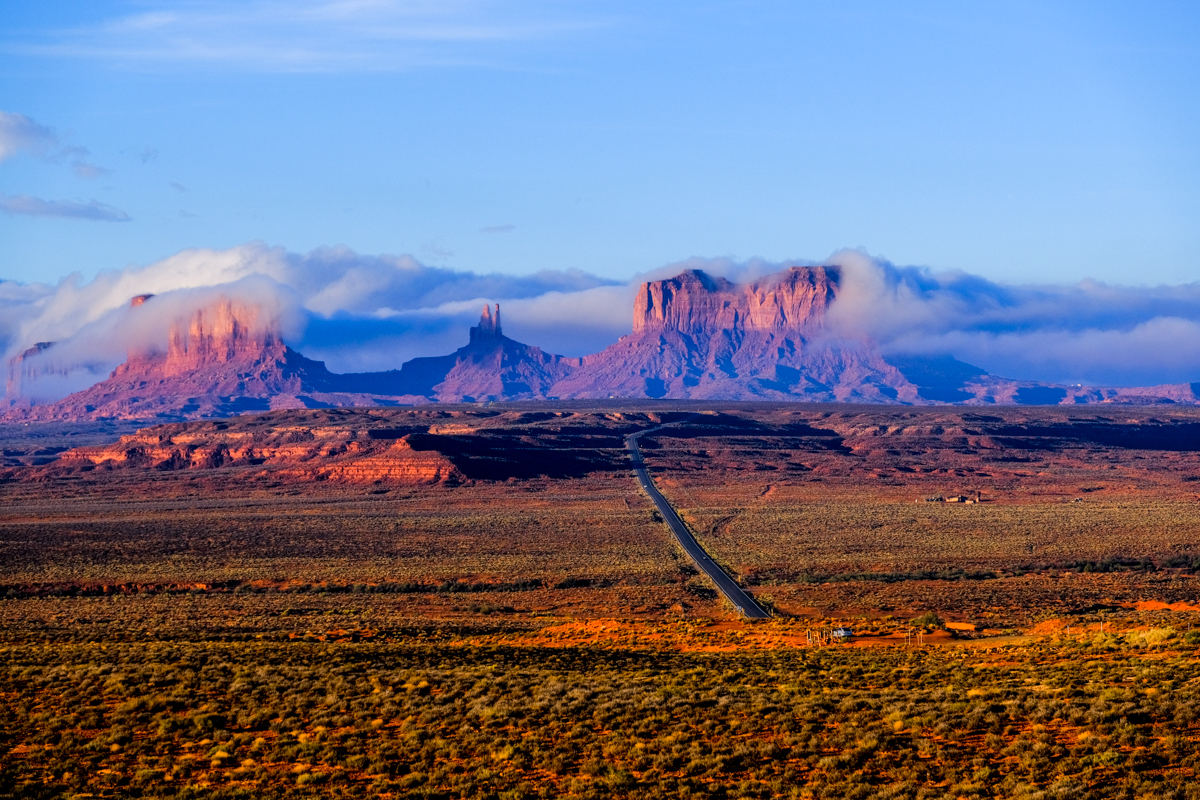 The bluffs put on a once-in-a-lifetime show turning from soft rose and taupe to ocher and orange against a blue and pink sky.
Later that afternoon we met everyone for a pre-sunset tour of Mystery Valley.  Our Dine guide took us "off road" to see ancient indigenous ruins, petroglyphs and geological sites containing artifacts.   Mother Nature proved to be the consummate artist….centuries of unrelenting wind and water have slowly eroded the rock formations into swirling masterpieces.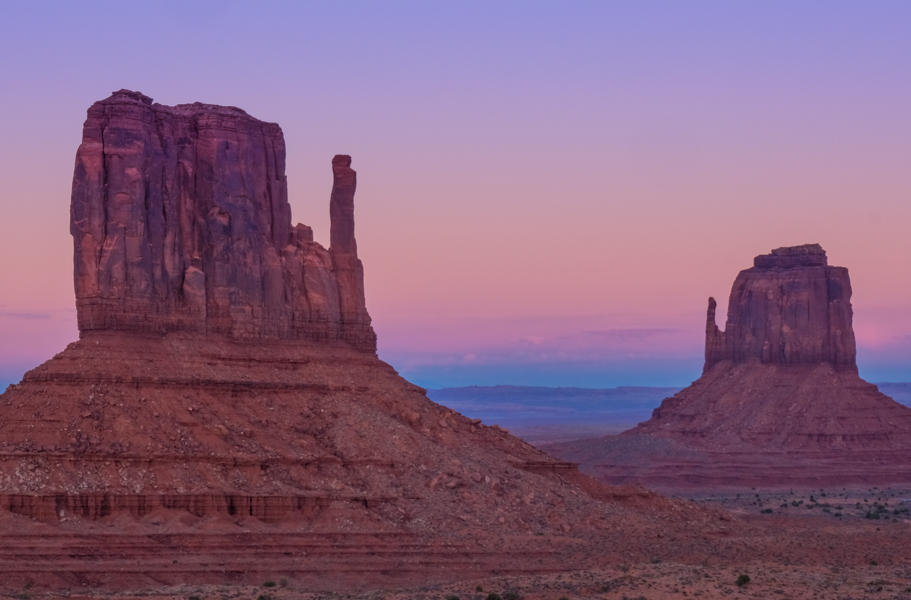 We raced back to the terrace at the View Hotel.  The sun had just set and Terry captured the West and East Mitten Buttes against a surreal pink, blue and purple sky.
Not letting any grass grow under our feet, we set off to explore nearby  Gooseneck State Park where the San Juan River makes a series of tight turns or "goosenecks".  The river has carved a deep canyon almost 1,000 feet below the viewpoint exposing 300 million year of time.  From there we drove through a large portion of the Valley of the Gods which offers scenery similar to that of Monument Valley…isolated buttes and towering pinnacles.  It was here I discovered the "Changing of the Leaves" in the desert.   Fremont cottonwood trees and their glorous crowns of golden, green and orange leaves were found along seemingly dry washes.
Tomorrow we move on to Canyon de Chelly via the Natural Bridges Park.  You can see by our photographs,  I found the beauty.