The 12 hour ordeal to get to the Rosedale Hotel in Portree is behind us.  Everything looks better in the morning after a good night's sleep and we slept like babies.  Our workshop begins this morning when we meet Karen Thorburn, www.karenthorburn.com,  a photographer from Black Isle.  She will pick us up from our harbor side hotel and drive the back lanes to small coves and inlets in the Highlands avoiding the tour buses and crowds.  Terry captures the ruin of Eilean Donan castle, built in 1220, perfectly.  It sits on a small tidal island where three sea lochs meet.
We will concentrate on single focus points and composition   We have brought a tripod from home.  Usually I just hand hold the camera.  Today all three of us will use tripods.  Terry concentrates on photographing the ocean and mountain range beyond.  An old boat has captured my attention. 
The seemingly cumbersome tripod will become my friend.  I see how it will demand you are a purposeful photographer.  You have to think about your subject, compose the shot, work on your settings and when ready "click", take the shot.   It is mandatory when taking photographs at night or in low light.  I have learned that you must slow the shutter speed to under 1/60 of a second.  You cannot hold the camera steady at that speed.  Santa will be getting a letter asking for a carbon fiber Three Legged Thing!
The mist and fog roll over the mountain tops and down onto the lochs and ocean.  When you think of being close to heaven, this must be what it looks like.  I've fallen in love with Scottish highlands.  I want to come back and spend a month exploring….but we will come back out of season.  It seems cruise lines have also discovered the Scottish highlands.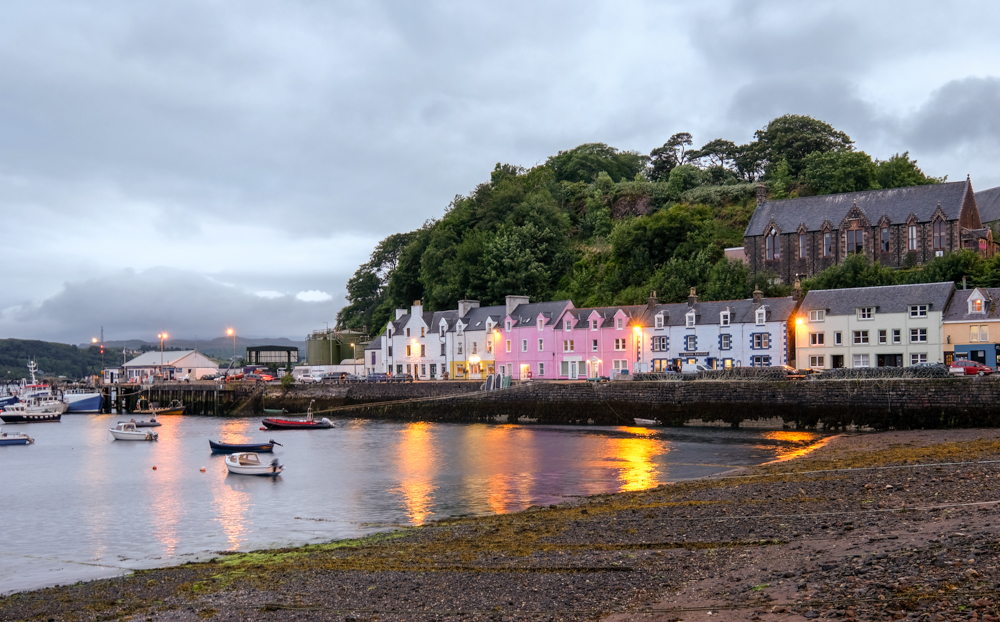 Karen drops us off in the afternoon.  After a short nap, we walk the little fishing village of Portree. It is on the east side of Skye and is the capital of the island.  The name Portree is Port Righ "Kings Port" in Gaelic and was established just 200 years ago by Lord MacDonald.  No, not the one with the farm.   It is surrounded by hills – Ben Tianavaig, Suidh Fhinn and Ben Chrachaig.
The Scots are big on walking .  They think nothing of walking 10 – 15 miles in an afternoon and the countryside is covered with walking paths.
Out hotel has an excellent restaurant and we enjoy a tapas-style dinner looking out at the harbor.  Who could ask for more?  Tomorrow we leave for Inverness.
click on any picture to enlarge