We were here in 2017 and enjoyed being surrounded by the sea and rugged coastline. This year we are back for almost 3 months to explore more of the southern coast of the Maritime Provinces. Terry wanted to travel "a'la Herbeck", which  roughly translated means "by the seat of your pants."  Stop when you find something interesting, drive on when you are bored.  The world, however, is also on the move in summer looking for interesting places.  We had been caught in a lurch before traveling without reservations and I found my "seat" possibly spending the night in our car or seedy motel.  In the end,  we compromised and made reservations.
Our first week began in a flat overlooking the harbor in Halifax.  From there we will be traveling to cottages with water views, and  from those cottages we will take day trips.  Terry won't have to pack up as often and my seat is assured of having a comfortable, clean place complete with an electrical plug and private bath.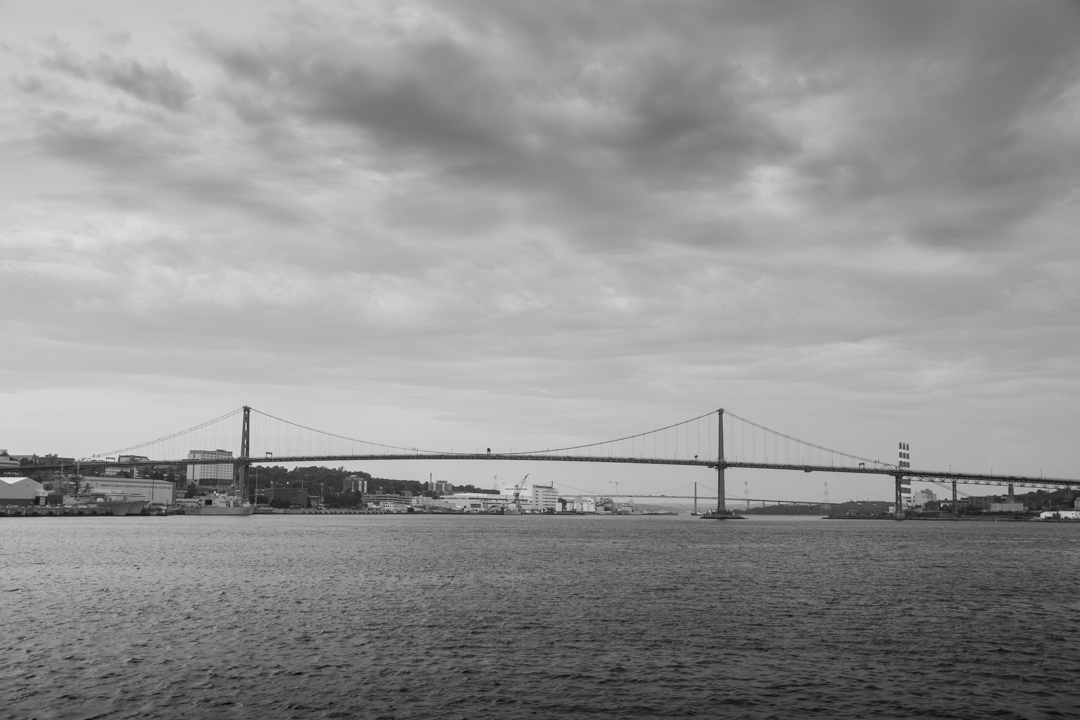 In Halifax, the one-bedroom penthouse was as advertised.  The back wall of glass gave us an expansive view of the harbor, the MacDonald suspension bridge, the ship building activity and the ferry gliding back and forth to Dartmouth. We fell into a routine of stopping at The Nook on Gottingen Street for a caramel latté; criss-crossing the city and harbor front on foot, then to Edna's most nights for dinner.
We surprisingly spent quite a bit of time in the library.  The modern structure afforded us grand views of the city and shelter from a short violent rainstorm.
When our week was up  we headed south to Chester Basin.  Along the way we stopped at Peggy's Cove.  Legend has it in the late 1800's a schooner was shipwrecked on the rocks and Margaret was washed ashore.  She fell in love and married a local man and settled in the village which became known as Peggy's Cove.
Peggy's Point Lighthouse is one of 750 structures that qualify as lighthouses.   She is, however, the most scenic and most photographed.   Ocean waves constantly pound the massive grey granite rocks surrounding the base.  Just be careful when climbing the rocks.  Those who aren't paying attention have slipped and pulled out to sea and are drown.
Click on the drone video below Terry made when he climbed out to the edge of the rocks.  The views are the same as if you were riding in a helicopter without doors!