We wake at 4:30 a.m. to make our Air Portugal flight to Dublin.  It was delayed so we miss our connection in London.   We get re-booked and arrive in Dublin 5 hours later than planned.   The silver lining in arriving late was an unexpected encounter with Rita and Dennis at The Pig's Ear.  But I digress.
After a cloak and dagger experience in obtaining the keys to the penthouse apartment, we drop the black beasts without unpacking; abandon the apartment without air conditioning and walk one block to the River Liffey.
I feel a little disoriented, the buses and cars are roaring past on the wrong side of the road.  I learned quickly to look down at the intersections.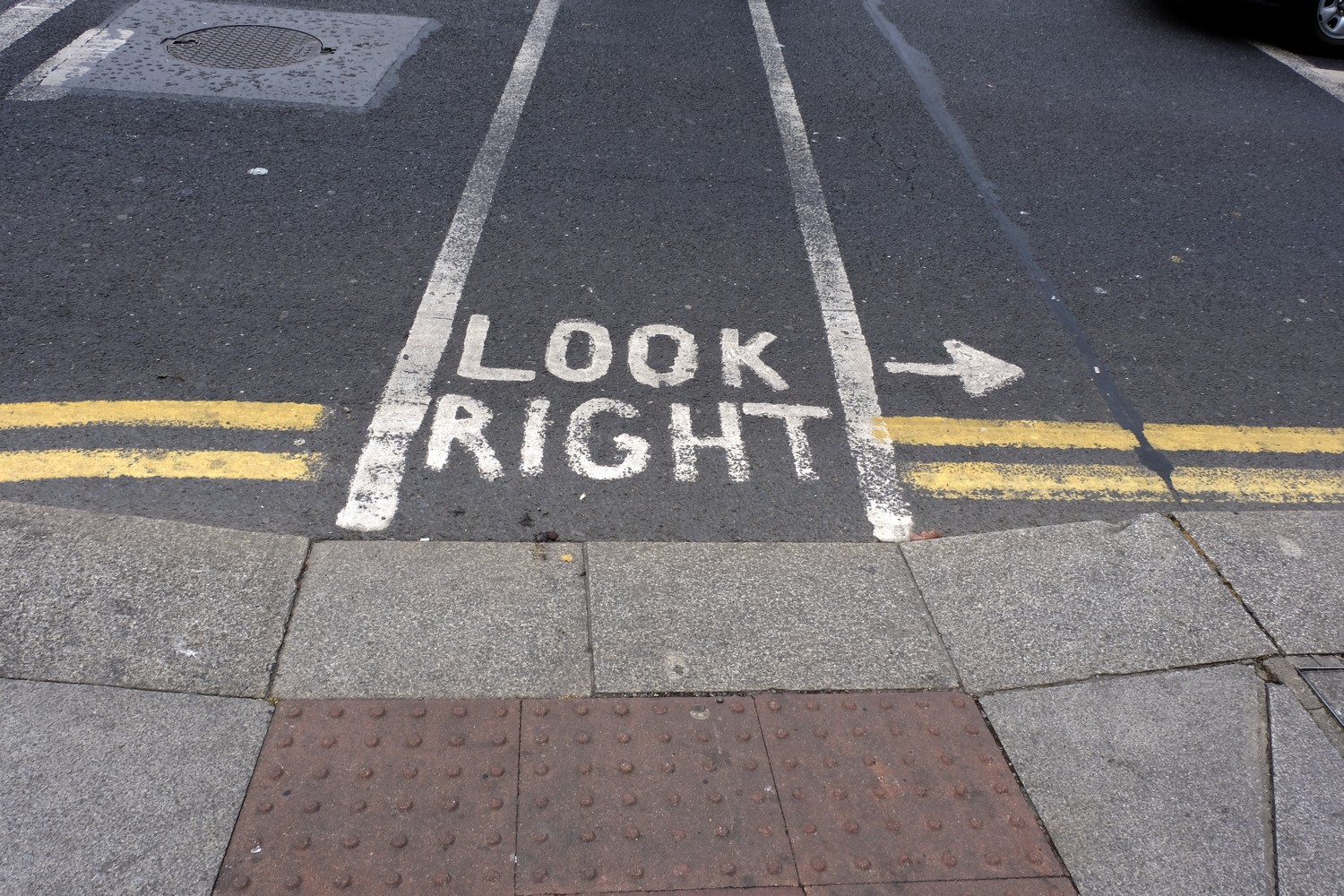 Printed on the roadway is "look right" and "look left".  Looking in the wrong direction could be hazardous to your health.
We head for Trinity College established in 1592 by Queen Elizabeth I.  Originally established outside the city walls, it now is surrounded by central Dublin.  It houses over 6.2 million printed volumes and manuscripts including the book of Kells.   The beautiful buildings and grounds were modeled after Oxford and Cambridge.  The campus is conveniently located just across the street from a Georgian townhome with a bright pink door.
It is no secret, I love to eat.  Behind this little pink door is a great 3-star Michelin restaurant.  We are a little early, they don't open until 5.  While reading the menu posted next to the door, we meet Rita and Dennis, also waiting for the door to open.  Their daughter interned here when in culinary school.  Did I know the tables here are booked months in advance?  Did we book a table?  Uh oh I think.
At least 30 other folks have joined us on the sidewalk.  Mike opens the door and turns away anyone who doesn't have a reservation.  Rita takes my hand, introduces us to Mike.  It pays to have new friends who know management.  We are taken to a lovely table overlooking the tree tops.  Our love affair with the food of Dublin begins this evening.
Meeting Rita and Dennis was the silver lining to a difficult day.  Dinner over, they walk with us toward the apartment.  Rita has given us enough names of restaurants to fill our dance card for the week.  Ever had a lemon posset with lime granite and gin?  Pig trotter carpaccio with cipollini onions and quail egg?  Amazing food!  Take a minute and look at the menus on their web sites.  Your mouth will water.
www.thepigsear.ie;   www.etto.ie;  www.pichet.ie;  www.locksrestaurant.ie;  www.winding-stair.com